NOTICE:
Welcome to the UK's Premier Online Oak source. Orders can be placed and paid for online 7 days per week.
Covid 19 has impacted delivery times a little so please be aware that some items will require slightly extended lead times. Our customer service telephone lines are on during working hours (currently excluding weekends) - telephone orders are not possible at this time. We can also be emailed on sales@uk-oak.co.uk or contacted via our live chat (during working hours).
Apologies for any inconvenience caused due to pandemic related delays and thank you for your continued support.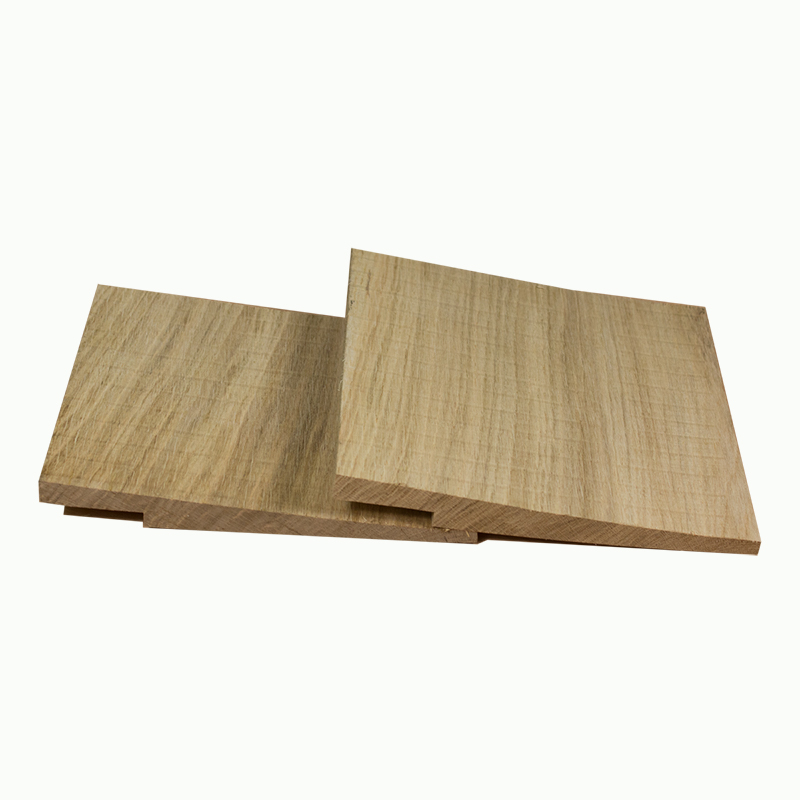 Rebated Oak Featheredge Cladding
UK Oak supply both the standard weather boarding (24mm reducing to 6mm at the feather or heavier, more robust cladding for longer lasting beauty and for use in heavily weather exposed areas. 28mm reducing to 8mm at the featheredge, cut from 38mm board.
These cladding boards are rebated for the featheredge to fix flat for additional stability and improved weather resistance.
Using rebated feather-edge horizontal boards for cladding, it is possible to reduce the overlap to 25mm but you should have a 2mm gap to allow for possible expansion of the boards.
Selected Character Grade Oak Cladding contains sound knots and sometimes some colour variation. It will give you a natural distinctive appearance with no major defects for a beautiful characterful oak appearance.
Please remember to make allowances for a minimum 35mm overlap on each board - (50mm is preferable) - when making your calculations.
The advertised price is per square metre and comes in random lengths unless specified otherwise for an additional charge.
Additional charges for specific lengths:
Set lengths up to 3500mm- £4.00 extra per square metre
Set lengths above 3500mm- £8.00 extra per square metre
For more information please do not heitate to contact our sales team on 01536 267107.