NOTICE:
As from Friday 27th March 2020, until further notice, UK Timber Limited will be taking orders via our websites only. This is to ensure the safety of both our employees and customers. Our production and deliveries continue, however, we are unable to offer collections and the usual delivery time guidelines will inevitably be extended during this exceptional period, so we ask that you please bear with us.
You can contact us at sales@uk-timber.co.uka> and through our web-chat services, where we will endeavour to answer your enquiries as soon as possible.
We apologise for any inconvenience caused during this difficult time and would like to thank you for your continued support.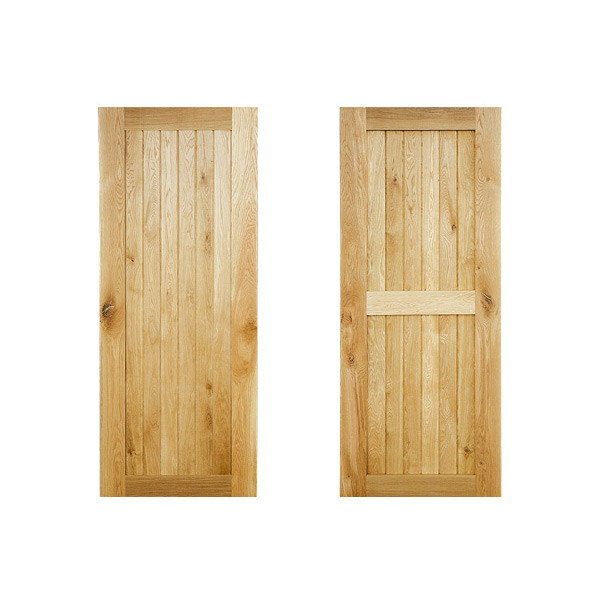 610mm x 1981mm Framed and Ledged Door
At UK Oak we offer a wide range of Solid Oak Internal Doors to fit your every need. Whatever you wish to use the door for we have an option for everything, from using them for a contemporary or traditional house to a barn conversion or simply for cupboards and wardrobes, there are doors which fit all these needs.
Our hand crafted doors are available in an extensive range of designs and sizes, all of which are manufactured from character grade European oak which may contain features such as knots, splits, and worm track. Our European Oak has been kiln dried to 10% moisture content making the doors extremely stable which minimises any bowing or warping after installation.
All UK Oak doors are 42mm thick, this comprises the main door of 20mm and the ledges of 22mm. The vertical 20mm boards have a micro bevel on the corners giving a V-Groove appearance and the external boards used for ledges, braced and frames are fixed with screws to the vertical boards and then wooden plugs are used to fill the screw holes.
All the Framed door range is machined to 40mm frame and 20mm fixed widths vertical boards with traditional jointing methods. Usually we will use provide a wider bottom to the frame to allow the door to be sized accurately and trimmed to fit (usually about 125mm). These doors come with random width vertical planks and horizontal ledge (approx. 110mm) (also available with 2 or 3 ledges).
These are the more contemporary doors of the whole selection and if this is something you are looking for then these are the ideal ones for you, they are a great addition to your home or wherever you wish to use them and are good quality oak which means they will be strong and secure enabling you to get the best use out of them.