NOTICE:
As from Friday 27th March 2020, until further notice, UK Timber Limited will be taking orders via our websites only. This is to ensure the safety of both our employees and customers. Our production and deliveries continue, however, we are unable to offer collections and the usual delivery time guidelines will inevitably be extended during this exceptional period, so we ask that you please bear with us.
You can contact us at sales@uk-timber.co.uka> and through our web-chat services, where we will endeavour to answer your enquiries as soon as possible.
We apologise for any inconvenience caused during this difficult time and would like to thank you for your continued support.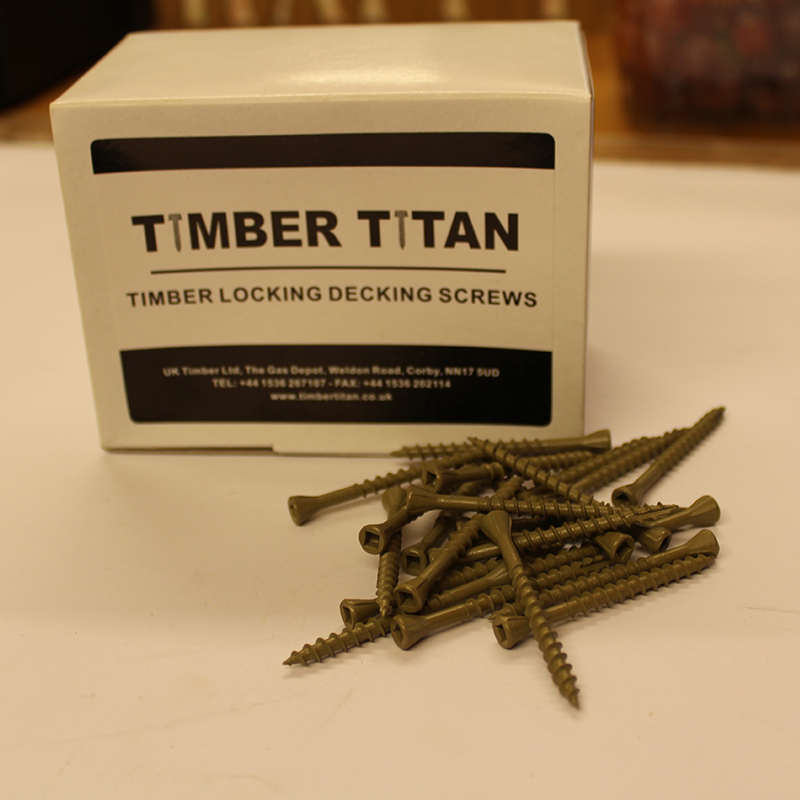 Timber Locking Decking Screws
Our Timber Titan Locking Decking Screws have be created for use to secure timber decking boards and decking components, yet they can also be used for a range of other DIY applications.
These superior quality decking screws come in the size of either 50mm or 63mm to allow you to select the screw perfect for installing and completing your project.
The properties of these decking screws offer the following:
Made from a durable metal and green coated
Corrosion resistant for the life of your project
Tested for use with treated timber
Self-tapping
Self-Countersinking
Deep recess, suitable for use with No.2 Square Head Drive Tool
FREE No.2 Square Head Drive Tool
Available in boxes of 200 screws
Not suitable for use in salt water applications.