NOTICE:
As from Friday 27th March 2020, until further notice, UK Timber Limited will only be taking online orders via our websites.
This is to ensure the safety of both our employees and customers. We will continue to deliver unless otherwise advised. You can contact us at sales@uk-timber.co.uk or through out web-chat services, where we will endeavour to answer your enquires as soon as possible.
We apologise for any inconvenience caused during this difficult time and would like to thank you for your continued support.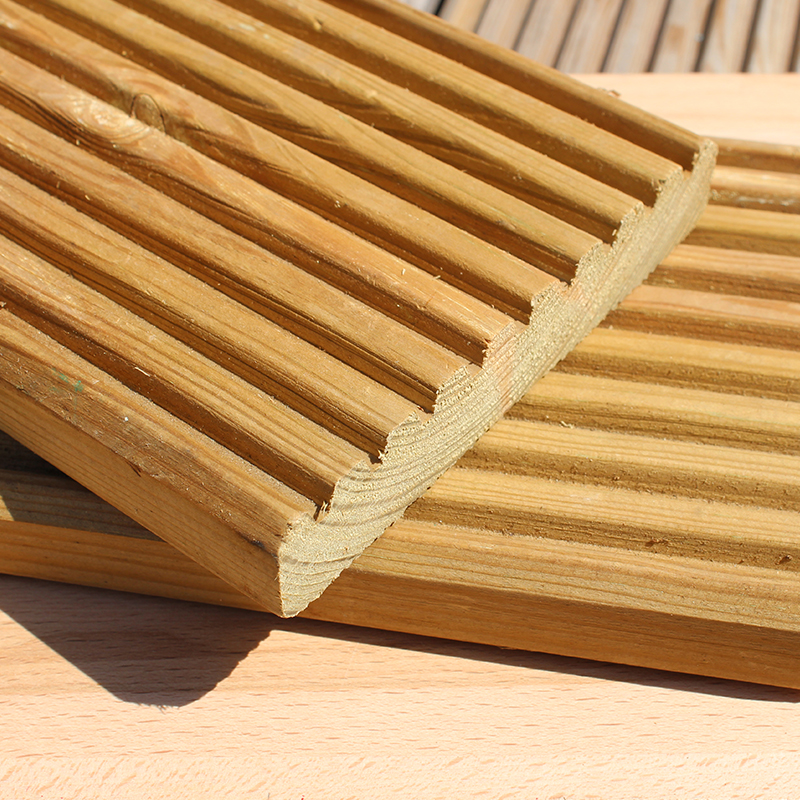 Green Treated Nordic Redwood Pine Decking
Our superior quality 145mm Green Treated Swedish Redwood Pine Decking Boards are not just visually stunning, they are highly durable even in the english conditions as they are produced from slow grown trees, with each board then being treated with Tanalith E.
With these stunning decking boards being treated with Tanalith E, it helps to protect the timber against fungal decay and insect attack to help to preserve your decking. The treatment penetrates deep into the structure of the timber to create a sturdy envelope of protection surrounding the wood. Initially, the treated timber will show different in colour, however with exposure to the external elements the green tint slowly weathers to a warm brown, then develops further to a stunning natural silver grey.
These decking boards are available in a range of lengths to suit the dimensions needed to complete your project. With the option for your timber to be machined with a bevelled edge non-slip profile or a planed smooth, you are in control of the finish to suit your preference. Please note that if no preference is stated then a profiled finish will be supplied!
Don't forget those finishing touches needed to complete your decking area! We also stock spindles, hand and base rails and ready made complete panels to make building your decking a little bit simpler.
Still undecided whether this decking is right for you? We offer up two samples of our decking boards for £5 inc VAT postage charge. Should you wish to the purchase decking boards that are the same as your samples, we will reimburse you the £5 postage charge upon ordering! Please feel free to contact our sales team on 01536 267107 if you have any questions.