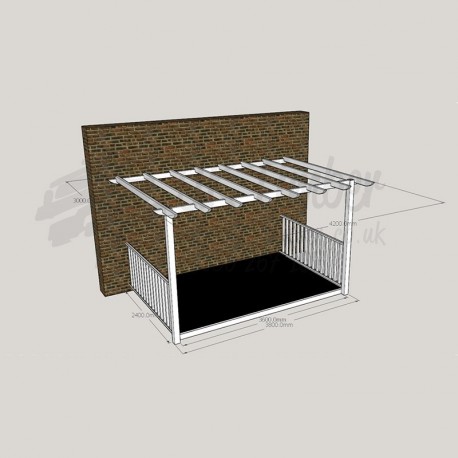 Open Porch - 2.4m x 3.6m Deck & 3.0m x 4.2m Pergola
This terrace kit is perfect for providing your garden with a stunning garden feature whilst creating a peaceful area to enjoy your outside surroundings.The stunning green treated decking creates a strong foundation to an area of your garden, combined with our beautifully crafted pergola creates not only a visually pleasing garden feature but also a functional area to embrace the outdoors.
Each kit is supplied with 2.4 metre uprights suitable for soft ground fitting or hardstanding. We also offer the option to have 2.7 metre uprights if you are bedding this kit into concrete.
This Suntrap Terrace Kit Contains:
1 x Deck Kit:
2 x Green Treated Softwood Decking Joists- 3600mm x 100mm x 50mm
10 x Green Treated Softwood Decking Joists- 2300mm x 100mm x 50mm
16 x Green Treated Swedish Redwood Pine- 3600mm x 145mm x 28mm
4 x Green Treated Softwood Hand/Base Rails- 2400mm x 30mm x 66mm
30 x Green Treated Softwood Stop Chamfered Spindles- 895mm x 41mm x 41mm.
1 x Pergola Kit:
2 x Green Treated Softwood Notched Posts- 2400mm x 100mm x 100mm
2 x Green Treated Softwood Rafters Bearers- 4200mm x 100mm x 50mm
8 x Green Treated Softwood Notched Rafter Rails- 3000mm x 100mm x 50mm

1 x Packet of Timber Titan Wood Screws- 63mm
1 x Pack of Galvanised Nails- 100mm
Each kit is comprised of components made on site from pressure treated timber, built to last and comes with step by step instruction to ensure you can construct your kit with ease.
If you wish to have your balustrade panels pre-made, please call a member of our sales team on 01536 267107 to add to your existing order of 30.
Free delivery to for all kits to UK Mainland.